PTCL & ChildLife Foundation join hands to save children through Telemedicine Facility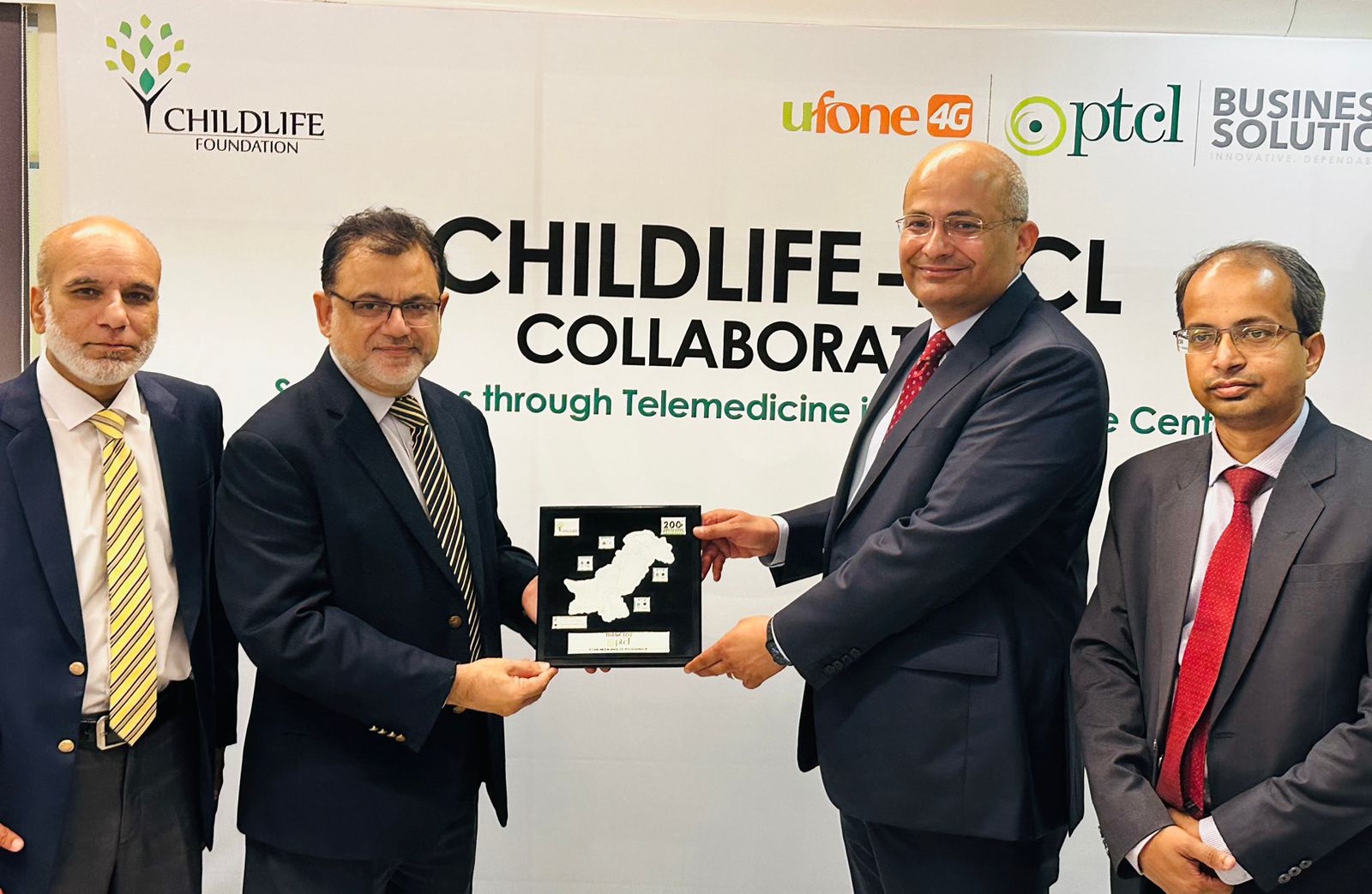 Islamabad, August 22, 2023: Pakistan Telecommunication Company Limited (PTCL) and ChildLife Foundation have partnered to provide telecom services for the remote telemedicine facility in more than 200 telemedicine satellite and emergency centers across Pakistan.
Zarrar Hasham Khan, Group Chief Business Solutions Officer, PTCL & Ufone 4G and Dr. Ahson Rabbani CEO, ChildLife Foundation, chaired the ceremony recently held at ChildLife Foundation's Emergency Center at Civil Hospital, Karachi. Basharat Qureshi, Group VP Enterprise PTCL, Umar Farooqi, Group Director Enterprise PTCL, Syed Ali Hussain, GM Information Technology ChildLife Foundation & Shahzad Zaki, GM Communications ChildLife Foundation, were also present on the occasion, along with other officials.
PTCL is providing ChildLife Foundation with its state-of-the-art connectivity solutions that are equipped with latest technology & managed services.
During the ceremony, Zarrar Hasham Khan, Group Chief Business Solutions Officer, PTCL & Ufone 4G said, "We are honored to enter a partnership with ChildLife Foundation to support the children of the country. PTCL, being a national company, is leading the digitalization effort across the country. Through such partnerships, PTCL continues to play its key role in the development of telecom infrastructure by providing innovative and secure solutions to the health sector that will further contribute towards the overall social growth of the country."
On the occasion, Dr. Ahson Rabbani CEO ChildLife Foundation said, "The partnership with PTCL signifies a significant stride in utilizing technology to bridge healthcare gaps in underserved areas. These Telemedicine Satellite Centers, powered by PTCL's communication solutions, enable remote communities to access expert pediatric consultations, overcoming previous barriers to quality healthcare. ChildLife aims to ensure that geographical limitations do not compromise a child's health. This collaboration highlights the organization's determination to bring about positive change through innovation and accessible healthcare."
PTCL and ChildLife Foundation place highest level of commitment to provide best-in-class emergency health services to the children across Pakistan. This agreement is part of the growth momentum in the diverse areas of ICT and Security Solutions, which is key to a digital eco-system in Pakistan.