PTCL Becomes the country's Only Managed Security Services Provider (MSSP)
Be prepared to tackle every evolving Cyber threat Landscape with PTCL
Business needs are evolving by minutes & so are we. Each day at PTCL, we work hard to keep ahead of technology trends to develop solutions and services that bring true value to our customers. We truly believe that providing quality-integrated solutions is what sets us apart from the competition. From the best in connectivity solutions, to unmatched data center & cloud services and innovative ICT & security solutions, PTCL offers it all under one window.
PTCL MSSP—Your Security Arm against the ever changing threat landscape
Upgrading generic security systems and surveillance mechanization from efficient to proactive, more collaborative and intelligent solutions, Ptcl brings to you a new era of advanced technologies.
Unravelling the true competence of our upgraded technological solutions, we strive to empower our customers by delivering top class suite of security and surveillance systems. Not only do our systems promise reliability, they eliminate the need for constant monitoring, allowing the consumer to experience the true essence of security.
Our dedicated team will understand consumer requirements first hand and effectively develop the best possible personalized plan keeping in mind affordability and extensively focusing on quality.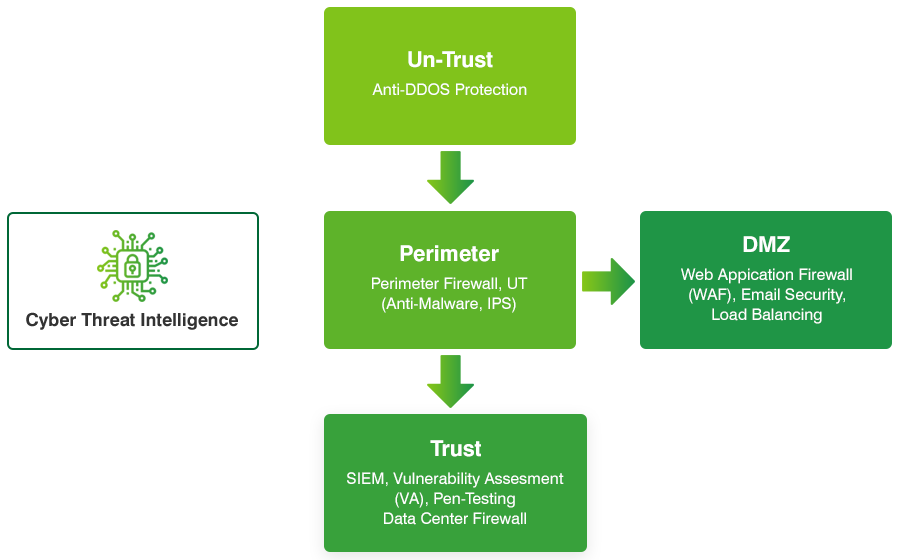 Designed to improve your security posture and help you stay prepared to tackle the changing cyber threats landscape; PTCL as your Managed Security Services Provider (MSSP) provides outsourced monitoring & management of security devices and systems. With MSSP, we take the burden of handling security needs off your shoulders so you can focus on innovation. Common service under this portfolio include
✔ Managed Firewalls




✔ Managed unified threat management (UTM)




✔ Intrusion detection & Prevention




✔ Multi-factor Authentication




✔ End Point Security




✔ Secure DNS




✔ Anti-DDOS




✔ Virtual Private networks




✔ Vulnerability Scanning




✔ Compromise assessments




✔ Anti-virus services
PTCL Cyber Threat Intelligence Services
Organizations today are interacting more than ever with their customers, employees and partners through websites and applications. While this increased digital presence opens up new growth avenues for the organizations on one hand, it also opens up a world of opportunities for the cyber hacking groups. Understanding this growing concern, PTCL has introduced a range of security solutions to help you minimize the impact of such attacks on your business and maximize business productivity.
PTCL Cyber threat services helps to detect, mitigate & respond continuously against cyber threats that could represent a high impact on business. In-house innovations are combined with strategic partnerships to deliver a complete managed information security offer.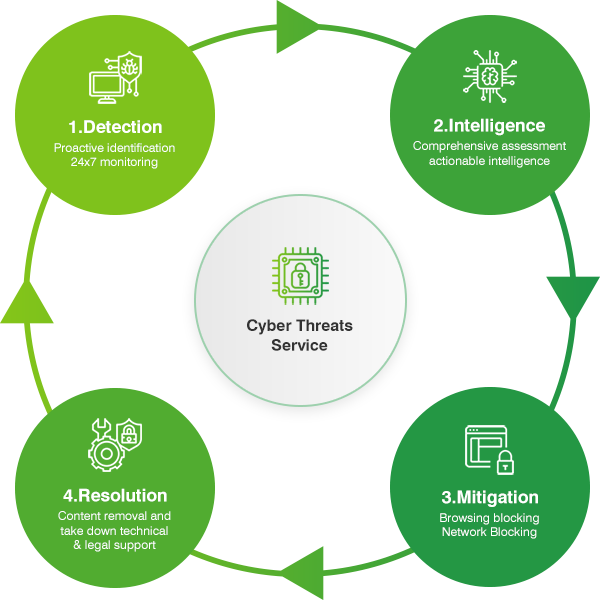 Key Features of PTCL Cyber Threat Intelligence
Cyber threat Intelligence service covers below service modules:

✔ Brand & Reputation

✔ Business Disruption

✔ Online Fraud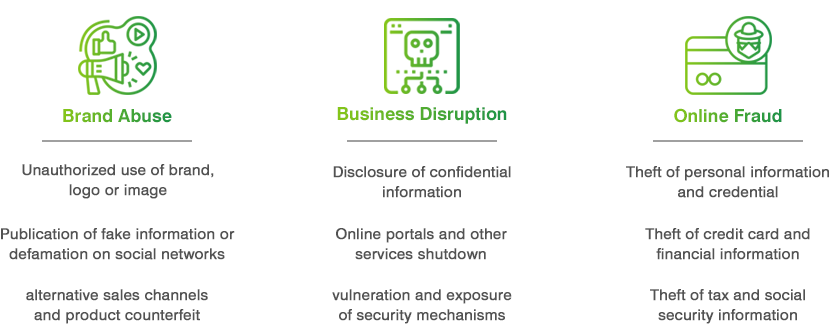 How can PTCL Cyber Threat Intelligence help you?
✔ Loss minimization regarding cybercrime impact

✔ Full control regarding the Company's digital exposure

✔ Improvement in business continuity and resilience

✔ Global vision, empowering decision-making process

✔ Information centralization through a single point of access
✔ Allows customers to achieve business-critical security objectives while keeping operating costs predictable and helping busy IT teams stay ahead of security issues.
PTCL ICT & Managed IT Services Portfolio
On the Road to becoming the country's largest ICT player, PTCL has collaborated with internationally experienced vendors to bring the best in line ICT & Managed IT solutions designed to empower and optimize your business growth. Our current portfolio of ICT solutions includes but is not limited to the below:
✔ Infrastructure Upgrade (Servers, Storage, Database and Network)

✔ Server Consolidation

✔ Server Virtualization

✔ Software Defined Data Center

✔ SAN upgrade

✔ Data Center Network Upgrade

✔ WAN upgrade

✔ Microsoft Solutions & Licensing (under CSP & SPLA programs)

✔ Software Licensing (Microsoft, Oracle, VMware & Micro focus)
OUR STRATEGIC ALLIANCES