Over-The-Top Video Service by PTCL GROUP:
PTCL Group has launched its new Over-The-Top (OTT) platform, SHOQ, to provide a superior and impressive viewing experience to all data users in Pakistan.
SHOQ Content:
SHOQ has Ads-Free HD streaming of ICC Men's Cricket World Cup. SHOQ also enables PTCL and other data customers to access rich bouquet of one hundred most viewed live, local and international channels, Pakistani films, originals and much more.
Multi-Device:
Smartphones/Tablets (Android & IOS)

Laptops

Android Smart TVs

Android TV Boxes/TV dongles

PlayStation (in near future)
Price Plan:
Daily = PKR 8/-

Weekly = PKR 42/-

Monthly Lite = PKR 120/-

Monthly Premium = PKR 299/-
(All Taxes included)
Customers can pay through:
PTCL Billing*

Ufone Billing

Easypaisa

Credit/Debit Cards

Google Play

Vouchers
(*Province based taxes will apply)
Key Highlights:
Hundreds of Blockbuster Movies, Series, & Documentaries.

Movies & Animated Series for Kids

Free Trial Period & Affordability

Daily, Weekly, Monthly, Lite & Premium Packages

Parental Control

Casting Feature

Download and Watch offline
For more details visit www.shoq.com.pk
SHOQ FAQ
What is SHOQ?
SHOQ is leading subscription-based streaming service by PTCL. SHOQ provides users with access to the widest selection of content, including live TV, TV shows, movies, series, Pakistani dramas, web series, kid's entertainment and much more. SHOQ can be enjoyed via SMART TVs, mobile phone app, and by logging on to our website.
What is the different subscription plans available?
According to your needs, you can choose from any of SHOQ's four subscription plans , every package starts with a free trial.
1) *Daily - Rs 8/ per day
2) *Weekly - Rs 42/ per week
3) **Monthly (lite) - Rs 120/ per month
4) **Monthly (Premium) – Rs 299 /per month (Not available on PTCL billing)
*All prices are inclusive of taxes except for PTCL method of payment.
How many methods of payment does SHOQ provide?
SHOQ offers following convenient payment options:
PTCL Billing

PC/mobile Web*

Ufone Billing

Visa/MasterCard

Easy Paisa

SHOQ Voucher

Google In-App

Android App
*It is always convenient to sign-up and subscribe from the web i.e. www.SHOQ.com.pk
Who can subscribe to SHOQ?
Anyone can subscribe to our streaming service -it's for all the SHOQeens.
How can I access SHOQ?
You can visit our website (www.shoq.com.pk ), signup and subscribe to the service. For android/ iOS customers, download SHOQ App from google play and App store.
What is SHOQ Premium?
Our SHOQ App is best enjoyed with SHOQ Premium. It provides it's subscribers with
a) Full access to the most premium content
b) Choice of registering up to five devices
c) Access for two complementary watching sessions.
What is the difference between the Monthly Basic Plan and Monthly Premium Plan?
The Monthly Premium Plan consists of an exclusive wider variety of content for its subscribers to enjoy, all for Rs.249 + Tax (regional tax will apply) for PTCL as method of payment or Rs 299 Incl. Tax per month for other method of payments
Whereas monthly lite plan lack cost RS100 + Tax (regional tax will apply) for PTCL as method of payment or Rs 120 Incl. Tax per month for other method of payments.
What type of content SHOQ offers?
SHOQ offers wide variety content including:
Biggest library of LIVE local and international TV channels in HD quality

Blockbuster Hollywood movies, TV shows, kids' content, documentaries, short films and a whole lot more

Watch best of Starzplay originals
Can I switch from Monthly Premium to Monthly Basic?
Yes! Depending on your usage requirements, you can easily switch between any of our subscription plans.
I have android App installed in my smart phone, how can I subscribe for the service?
Here are two ways to pay before using the SHOQ Android App.
Method#1: Visit our website www. SHOQ.com.pk , sign-up and subscribe to service from there and use the same credentials on your android App.
Method #2: Download the Android app, sign up, choose your preferred SHOQ plan, link your credit card to Google Play, and the service will be charged.
I have IOS App installed in my smart phone, how can I subscribe for the service?
Visit www.shoq.com.pk, sign up for a service there, and then use those credentials to access the iOS app.
Can I switch between payment methods?
Yes! Customers are complete free to choose whatever payment option that is most convenient for them at any given time.
What devices can I stream SHOQ on?
You can stream SHOQ from any smart device that allows SHOQ app downloads or has it pre-downloaded. SHOQ is compatible with Android, IOS & all web Browsers. A few examples of devices that support the SHOQ app are Android/IOS mobile /Tablet , laptops, and Android Smart TVs (e.g. TCL. Haier, Hisense etc. ), Samsung, Sony (Android), LG, Android TV boxes/ dongles , PlayStation (In near future) etc.
How can I monitor what my children are watching on SHOQ?
Parental Control is available in the Settings menu of SHOQ. you can change those settings at any time.
How do I make my SHOQ account secure?
SHOQ strongly believes that its customers' security and safety should never be compromised. Customers' information is treated with extreme confidentiality and discretion. You have the option of taking further action.
We advise you to:
1. Always choose a lengthy password that contains letters, numbers, and symbols.
2. Avoid using the same password across numerous platforms.
3. Consistently change your password and never discloe it to anyone.
4. Immediately notify the SHOQ Helpline of any suspicious activities.
What can I watch on SHOQ?
SHOQ offers a wide range of content to entertain fans of all genres. You can watch live TV channels of all popular genres along with Sports, Pakistani dramas, kids entertainment, original content and much more.
If I am a PTCL customer, how can I get SHOQ?
PTCL users can pay for SHOQ through PTCL. This makes it easier for PTCL customers to pay both their SHOQ and normal PTCL bills at the same time. This offer is available to all PTCL customers.
Who can use the PTCL easy sign-up option?
All PTCL customers who have either Flash Fiber/broadband Internet connection or smart TV Subscription can use the easy sign-up option
Which PTCL data limit is this service available to?
All PTCL customers regardless of their data limits can avail this service.
How many devices can I register by default?
You can register 5 devices by default.
How many simultaneous sessions can I use by default?
You can enjoy 2 simultaneous sessions by default
Is there a free trial?
Yes! SHOQ offers a free trial of 1 day, 7 days, and 30 days against daily, weekly and monthly plan respectively
If I haven't paid my PTCL bill for a month, can I still avail SHOQ?
As long as your landline account is paid on time, your SHOQ subscription is active. Otherwise, SHOQ will be suspded till you will terminate your subscription. The subscription will resume as soon as your fees are paid
If my PTCL services have been terminated, can I still avail SHOQ?
Your SHOQ services will be discontinued if your PTCL services are cancelled, either at your request or as a result of longer-term non-payment.
How do I sign up/Log in for a SHOQ account on my Android SMART TVs?
Method#1
The easiest way to signup for SHOQ on Android smart TV to:
Visit www.shoq.com.pk, sign up for a service there

Open SHOQ app in Android in smart TV and press login

Input already created username and password on TV screen using remote.
Method#2
Go to SHOQ Android TV App & click Sign-up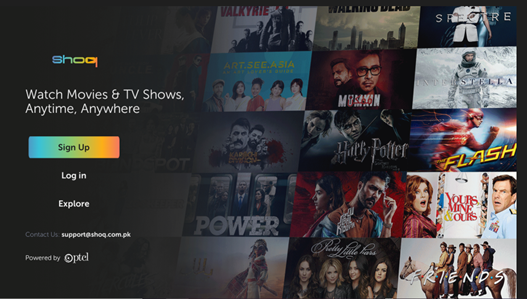 After pressing Login -> Continue From Web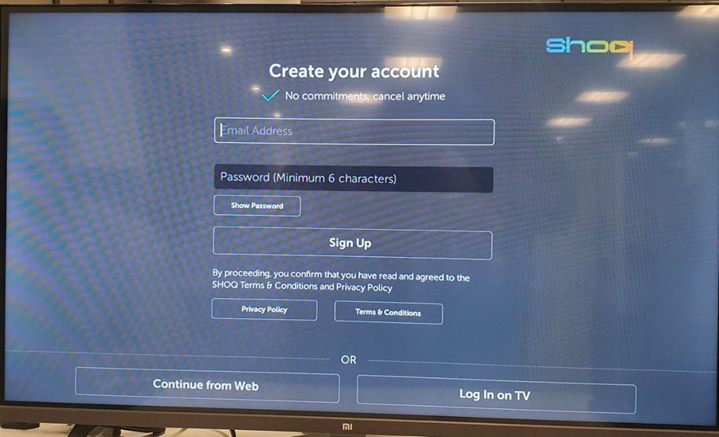 You will be prompted to go to shoq.com.pk/linktv , signup & activate your account by paying for SHOQ service with any of the available method of payment.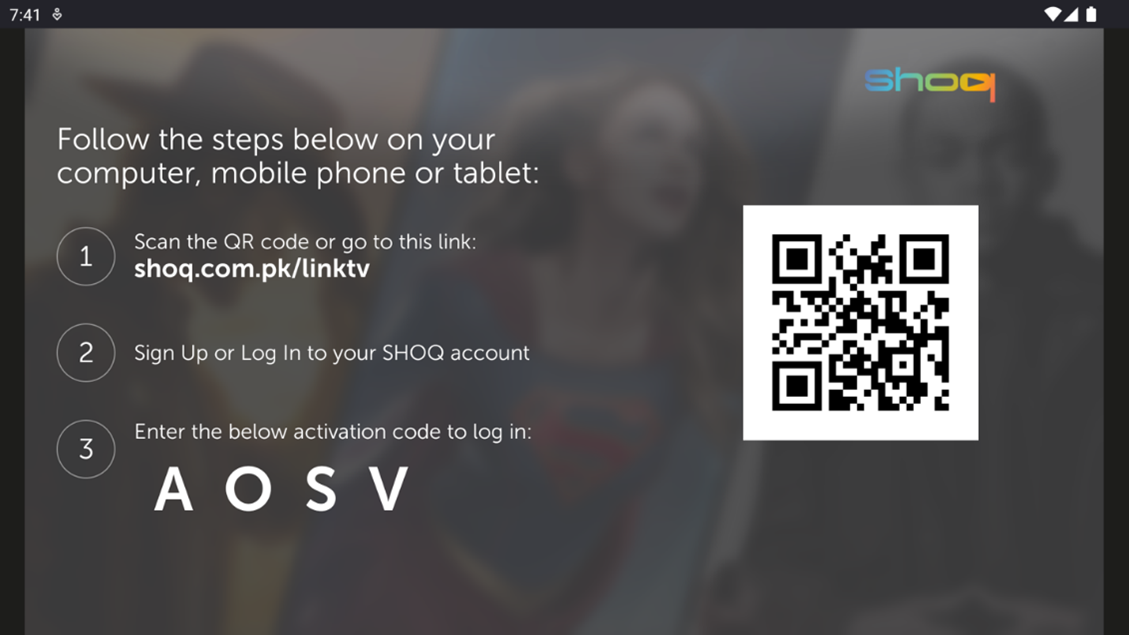 Enter the code that appeared on the Android TV.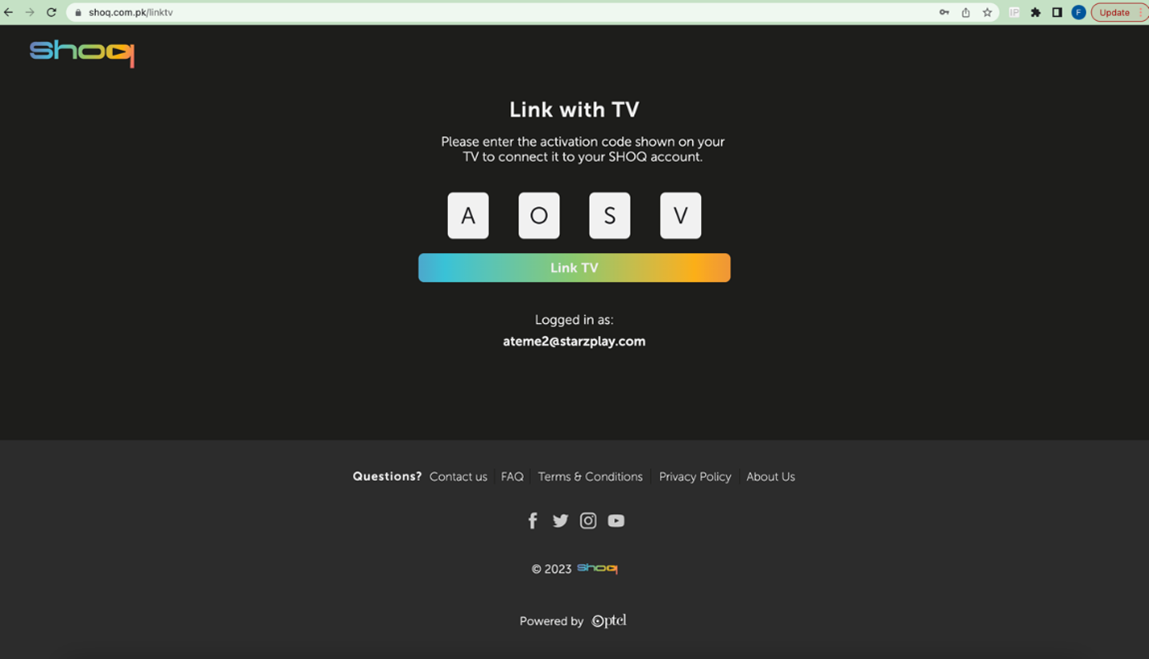 After successfully entering the code; You will be taken to the Home Page on TV, where you can continue your streaming experience.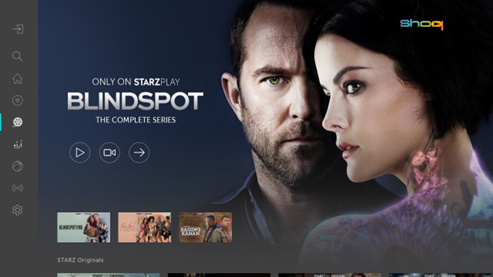 How do I change my password?
Select "Forgot Password" option on the login page and follow the instructions if you have forgotten your password.
I tried to sign up for an account, but it says, "Email already exists", what do I do?
The email address is already registered with SHOQ, according to this error message. Simply click the "Forgot Password" link and follow the directions if you are having trouble remembering your password. A link to reset your password will be sent to the email address you provided.
How do I cancel my SHOQ subscription?
Select the option to deactivate your subscription under Settings > Payments. Note that you can cancel at any time.
How can I monitor how much data SHOQ is using?
With SHOQ, a data limit cannot be set. Your device allows you to establish a data limit, however, recommend that you stream using a Wi-Fi connection to not exceed your data limit.
How do I set up Parental Controls?
Several stages can result in the activation of parental controls:
1. As a last step in the account creation process, we ask you to select the amount of parental control you want to use.
2. The Settings section allows you to modify the Parental Control setting at a later time.
You will be asked to enter your password to approve the change if you are lowering the parental control's level.
Someone is using my SHOQ account without my consent what do I do?
We advise you to sign out of all linked devices and change your SHOQ password if you see any unusual streaming activity or charges on your SHOQ account.
How do I add titles to my Watch List?
You can easily add or remove titles from your Watchlist:
- Sign in to your SHOQ account
- Click 'Watchlist' button next to Settings-
- Hover your cursor over the title you want to delete, then click the delete icon that appears.
What is a Watch List?
You can save your favorite content to watch it later on SHOQ by adding it to a Watch List.
Can I download shows on SHOQ to watch offline?
Yes, you can download movies and TV series to view them whenever you want with SHOQ
How I can I register complaint related to SHOQ?
Please email at support@shoq.com.pk or go to "Contact Us" on www.shoq.com.pk and android and IOS apps and provide your username, issue faced along with little bit more description (You should specify your mobile number in description box)